Kids, the Bakken Museum, Magic Arms and Kablooe Design: a Recipe for Innovation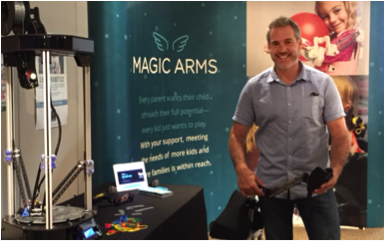 The Bakken Museum is a great place. Many of you who are local to Minneapolis have fallen in love with the quaint little museum set on the shore of lake Calhoun. The museum highlights the conjoining of electricity and medical devices throughout history.
But it has much more than this. It is home to the coolest summer camp for kids. During the summers kids spend time there surrounded by more materials, gadgets, tools and supplies than they can imagine, and they use their un-eroded childhood imaginations to become the innovators of tomorrow.
Last week, the museum hosted "Discovery Days", where kids and families could roam the museum and see what it was about. Magic Arms, a non-profit co-founded by Kablooe President Tom KraMer was there with a 3D printer and several sets of Magic Arms devices showing kids how they could become innovators that can make positive change in the lives of others.
The Magic Arms device helps kids born with a rare disease that can't move their arms. It is a relatively simple device made with 3D printed plastic, hinges and rubber bands. Mounted to a vest and worn by kids it creates magic by allowing them to move their arms and do things they have never done before.
Tom's charge to young innovators at the Bakken was to look and see how simple the device was, and how easily they could have come up with an idea like that. The goal was to encourage them to use their God given talents to innovate and help others. You can learn more about Magic Arms here.