CAD has the new honors of holding the trophy until the next competitor knocks them off.
Today was the official ceremony... the much coveted "Kablooe Kart Rage" trophy was relinquished by Tom KraMer of Kablooe Design to the esteemed cart race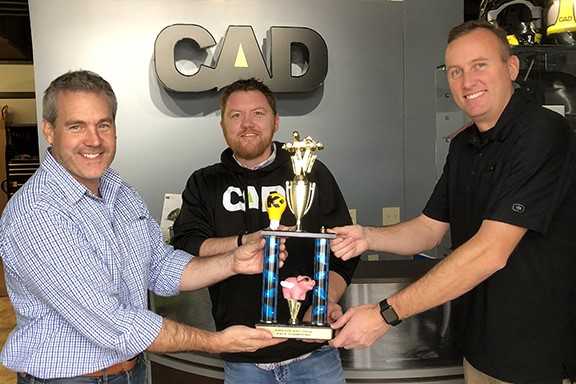 team at CAD, represented by Marc McCauley and Jesse Hahne, after losing to them earlier in the month by a slim 1.4 seconds on the track. The team from Kablooe held the trophy after beating the team from APS last month.
"The team from CAD drove hard and were fierce competitors" said KraMer. "They deserved the win" McCauley and Hahne will hold the trophy at their headquarters in Elk River, MN until a worthy opponent can beat them on the go-cart racetrack. APS is on the hunt for a rematch now that they have their star driver, Michael Frie, back in the lineup, however, it looks like the next challenger for the trophy is a team from Symmetry Solutions. Will they have what it takes?
Each losing team is tasked with adding an item to the trophy that represents their company, which gives the trophy its charm and importance.
Does your company have a team that would like to give go cart racing a try? Give it a shot, it's loads of fun no matter how skilled or unskilled you may be! Contact Missy at missy@kablooe.com to get your team on the schedule and take a shot at the coveted Kart Rage trophy!