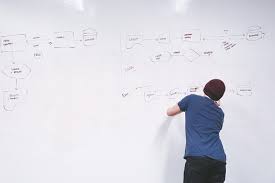 This event sounds like a ton of fun, and Kablooe will be there giving it a shot for the first time!
If you feel brave and want to hone your improv/design skills, you should try this too.
First, there's a brief whiteboard demonstration. Then, they break into pairs, pick a challenge and head to a whiteboard. One person will be the designer and the other the host. For 15 minutes the designer will work through the design challenge on the whiteboard. They may ask questions of the host as needed. They'll think out loud while writing to show how they are exploring and solving the challenge. When the 15 minutes is up, the host gives 10 min of feedback/co-creation. Then they swap roles and do it again with a different challenge.
There are a handful spots left for the hands on whiteboard challenge on Tuesday, June 26, from 6:00 PM to 8:00 PM.
Come give it a try with us!
Prime Digital Academy
301 4th Ave. S - 5th Floor · Minneapolis, MN
Click below for more information!